A major focus area for CMC is development and implementation of projects that are highly specific to a particular customer's process or product. This type of customized project can take on a number of different forms:

Customized Testing. This may include specialized fixturing used in a standard mechanical or electrical test configuration, or a completely customized test set-up build around  the features of an individual product.

Customized testing can be done at the device or package level, or it can be focussed on an entire assembly.

Another example of Special Projects is customer specific development. This can be development of a specific process such as a cleaning cycle or plating cycle, or it can be focussed on materials development. CMC has implemented a number of projects, discussed below, in each of these areas.
For Special Projects, CMC leverages our Analytical Laboratory, Test Laboratory, Lab View Programming and Automation skills, Machine Shop for building fixturing and well equipted materials related process development laboratories.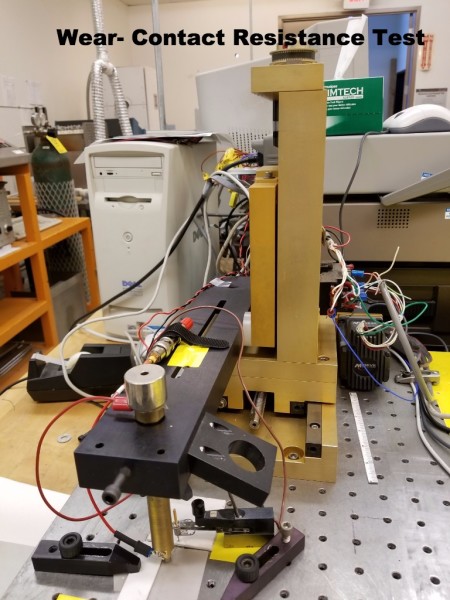 Examples of Customized Testing Projects at CMC 
CMC built a customized wear tester to evaluate a special coating developed by CMC's customer. This tester automatically moved a tungsten stylus across a coated surface while simultaneous measuring contact resistance and recording resistance vs. cycle. This test utilized electrical test equipment, mechanical fixturing and a programmable motor assembly. CMC then utilized in-house Analytical Laboratory  (SEM and ion mill cross section) to physically interpret each wear zone.

CMC fabricated in-house a customized mechanical tensile tester that was designed to evaluate a medical probe. Because of the unusual shape of this probe, it could not be evaluated on a standard mechanical tester. These results were utilized by CMC's customer to aid in product development.
CMC build a highly sensitive adhesion tester used to evaluate silicone "stickiness" in the milli-gram force range. This was then transferred to CMC's customer to use in their manufacturing line as an incoming material test.
CMC fabricated a special apparatus for optically imaging wirebonds at high magnification while they undergo temperature cycling from -40C to +150C in real time. This system allowed CMC to identify a very complex wirebond motion that was creating cycle failures but was not predicted by finite element modelling.
CMC developed a speciallized adhesion test to evaluate a transfer molded polymer on a customer's lead-frame product. This test was utilized as a key tool in the customer's process development of the molding and curing process.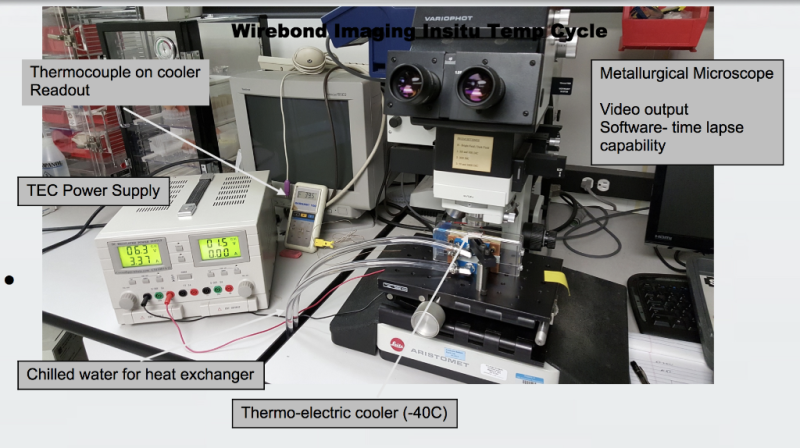 Examples of Process Development Projects

CMC developed a custom substrate re-claim process for a highly valued image sensor in a medical application. This process re-claimed the substrate by de-processing the entire assembly. CMC utilized the Analytical Laboratory capabilities as well as chemical processing know-how to save the customer very significant costs associated with purchasing new substrates.
CMC developed an electroless plating process capable of plating electroless NiP and Au on LTCC. This allows CMC's customer to have a Au surface for assembly on a LTCC module with Ag metallization. A very significant cost savings vs. thick film Au. This utilized CMC Analytical Laboratory and Plating Development Team.
CMC developed a cleaning process for thin film metallization of ceramic substrates. This utilized CMC's Analytical Laboratory, Test Group as well as chemical processing know-how.
CMC developed a process for manufacturing very high quality Aluminum Nitride (AlN) cramic powder. CMC's customer was manufacturing substrates and purchasing very high cost AlN powder. By making their own powder with the process from CMC, the customer was able to realize very significant cost savings. This project utilized CMC's Analytical Laboratory and materials development expertise.